Why is spring the most important time of year for beekeepers?
Even if it's still cold outside, the arrival of spring heralds the start of the beekeeping season.
Inside the hive, in response to the lengthening of daylight hours, the queen bee begins laying more eggs – growing the size of her colony to prepare for the increase of forage soon to be available.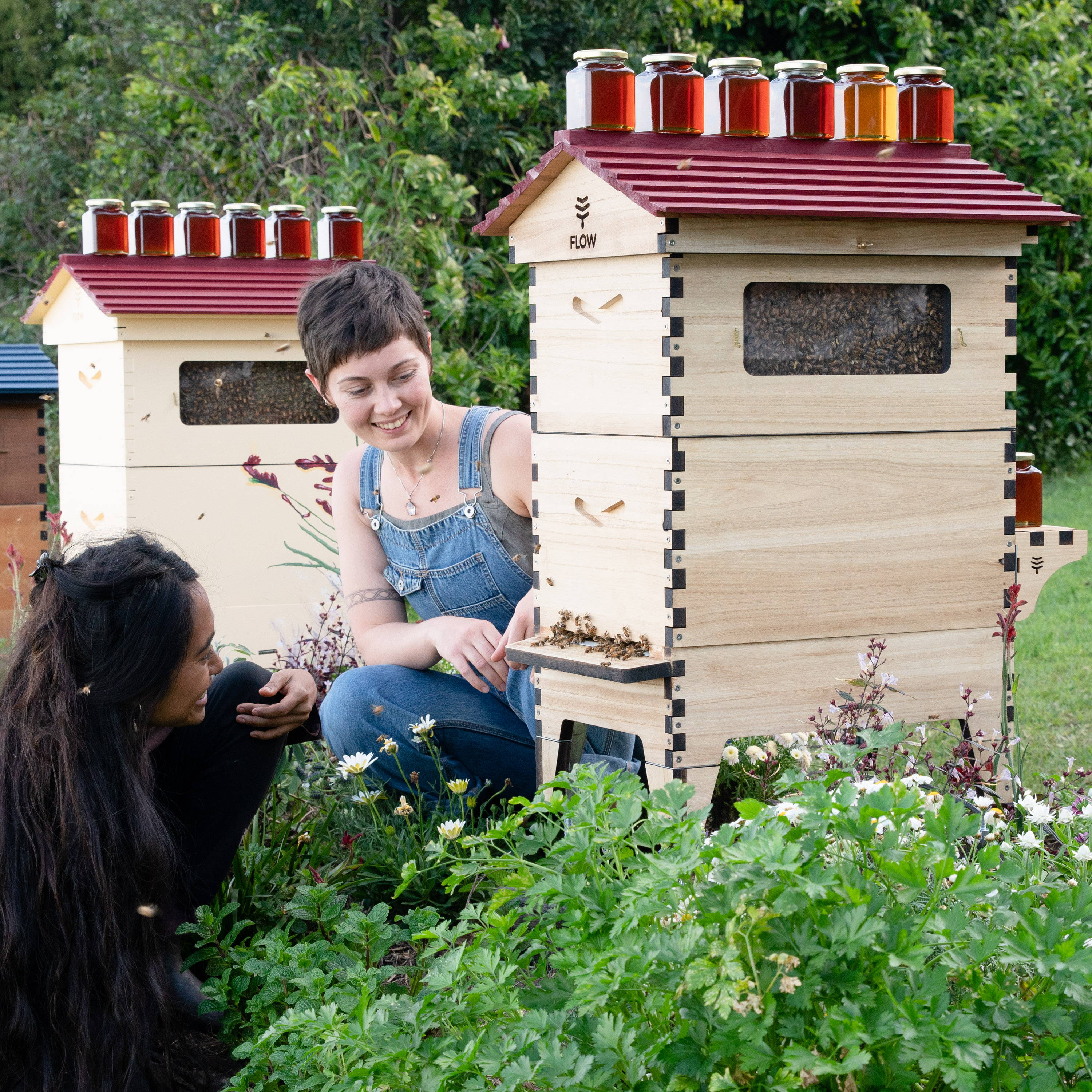 In most areas, spring is the best time to start keeping bees. With new season flowers in bloom and nectar flows, bee colonies will be reproducing, making it the perfect time to source bees for your new hive and the perfect environment for your hive to thrive.
For new beekeepers, it's important to be prepared early, so you'll have time to assemble your new hive, work out its best location and to learn as much as you can.
So if you've been wanting to improve your home-produce, pollinate your garden or collect your very own honey, now is the perfect time to get started. And we have a swarm of resources available to support you as you discover the fascinating world of bees.
Looking for the best way to get started?
Our special May Starter Bundle is perfect for anyone who is setting up a Flow Hive for the first time as it comes with everything you need including essential safety gear, PLUS an incredible saving.
Featuring an Araucaria Flow Hive 2 - 6 frame or Flow Hive 2 - 7 frame hive, an organic beekeeper's suit, stainless steel smoker, goatskin gloves, J-Hive tool, Flow Veil and a sweet saving!
Imagine harvesting your very own honey, directly from the hive
A Flow Hive allows you to harvest single frames directly into your honey jar, which gives you the opportunity to taste all the different flavours of the seasons without the blending, heating and oxidation associated with conventional harvesting methods.
Bees tend to fill frames one at a time, so each Flow Frame will reflect the flowers that were blooming when it was filled, allowing distinctive variations in colour and flavour to shine through.
This makes each jar of honey unique!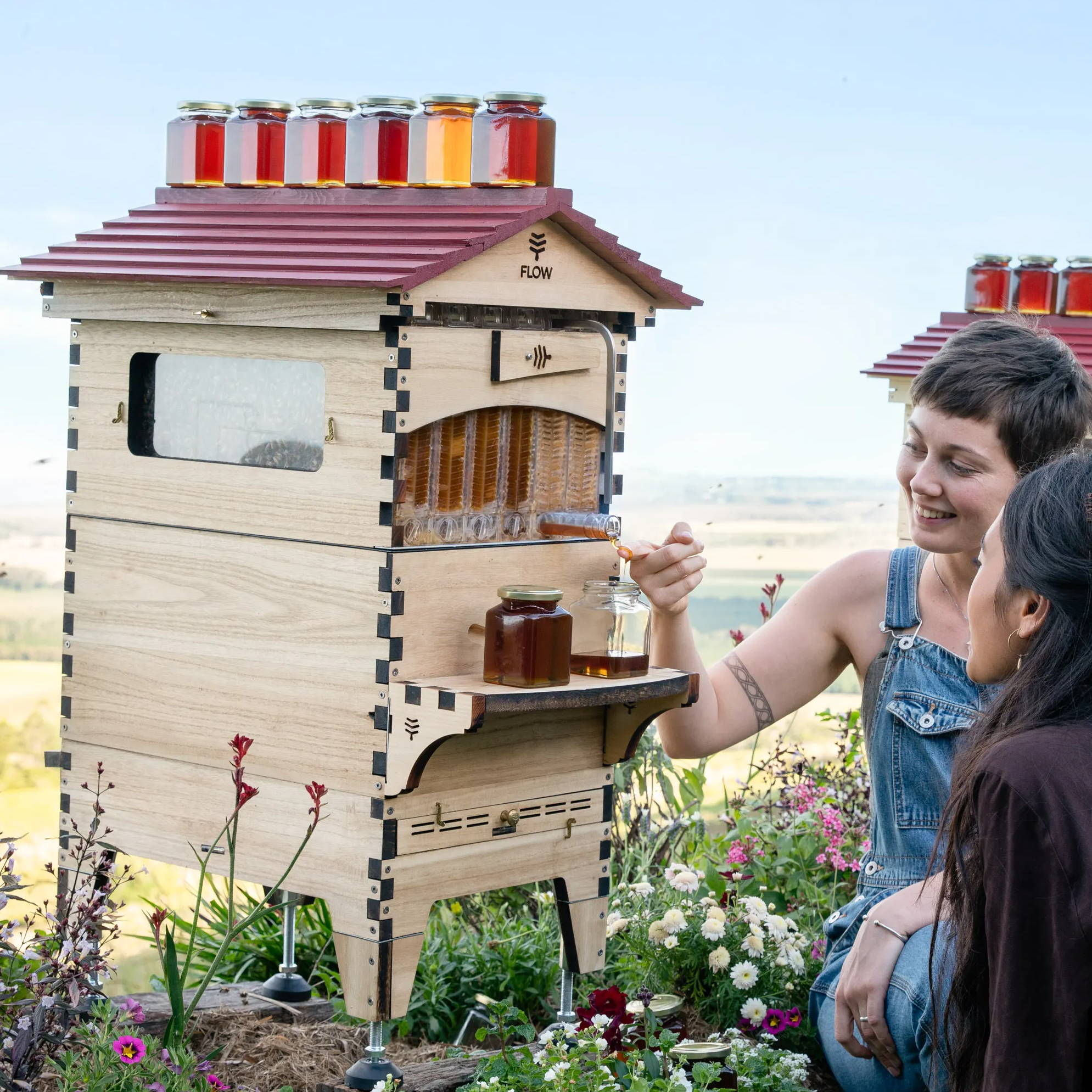 Keen on starting but feeling nervous?
Don't worry – Flow will be here to help you every step of the way. We have plenty of online resources to help you gain confidence.
Here's some tips to find the best help for your learning style...
Keen on starting but feeling nervous?
Don't worry – Flow will be here to help you every step of the way. We have plenty of online resources to help you gain confidence.
Here's some tips to find the best help for your learning style...
Online beginner beekeeping course
The first year of beekeeping is crucial - and with so much conflicting advice available online, it can be difficult to know where to begin.
So, in conjunction with the world's experts, we've created TheBeekeeper.org—a fast-track way to learning easily and enjoyably.
PLUS: 50% of profits go towards bee-friendly projects and habitat regeneration initiatives around the world.
Bee mentorship
There's nothing quite like experiential hands-on learning. Connecting with a beekeeping mentor is a great way to get started.
The Flow Forum is also a fabulous place to connect with beekeepers around the world. Read through threads dedicated to beekeeping topics, and have your questions answered by experienced beekeepers!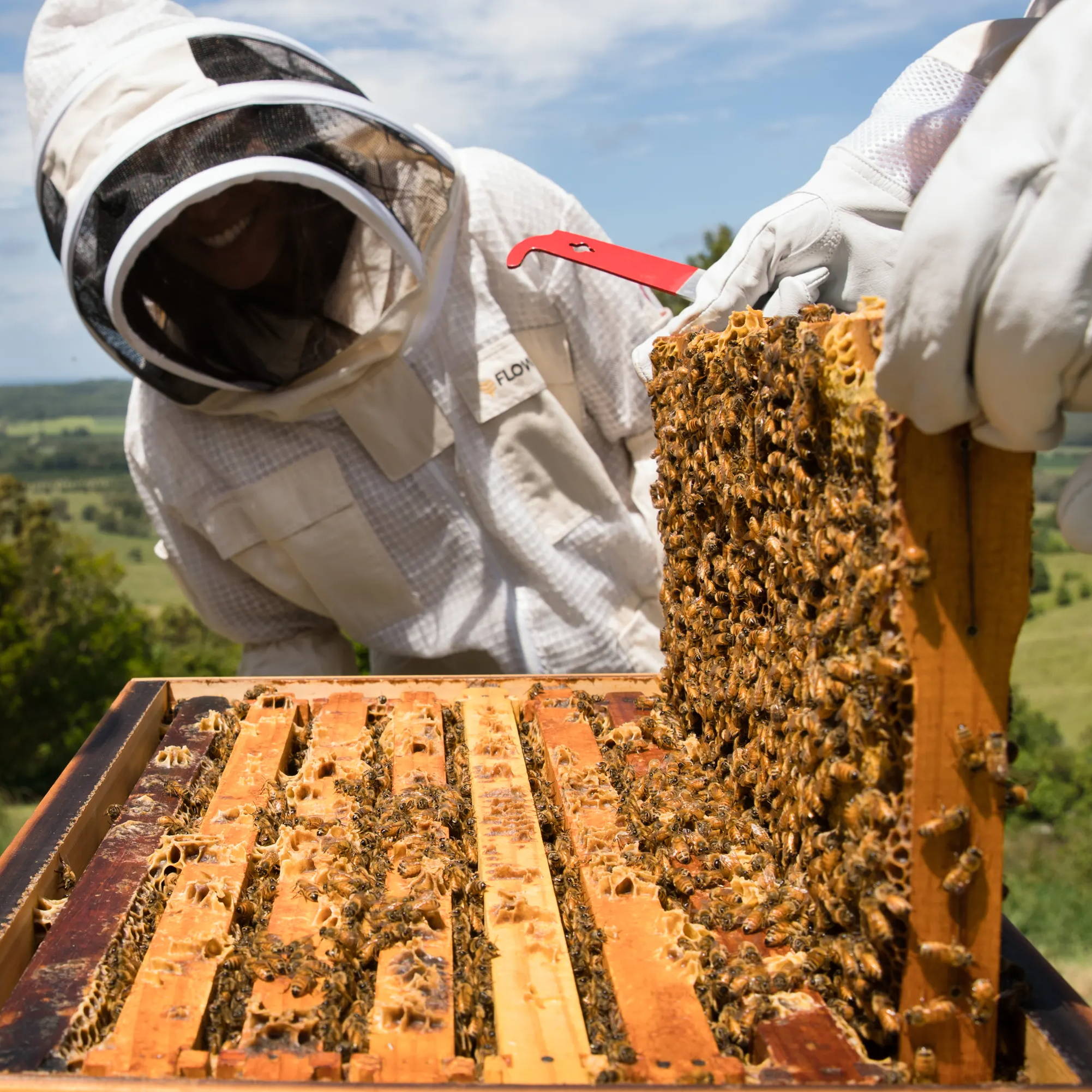 Like learning in a group?
You may like to join your local beekeeping club or association – a great way to meet fellow beekeepers, with knowledge on how to keep your bees happy and healthy most relevant to your local area. Most clubs are holding Zoom meetings, and meeting in person where safe to do so.
Teri's first harvest after a successful spring
Meet Teri and John as they share their excitement of their very first honey harvest after setting up their Flow Hive in March.
They got into beekeeping to supply John's addiction to black tea with honey - now they love spending time together making "the best honey in the world!"
Where do I get bees?
One of the most frequently asked questions from new beekeepers is – "How do I get bees?"
The first thing to remember as that bees won't always wait until you're ready for them, so it's important to have your Flow Hive set up and ready to go.
Here are two great ways you can find a colony to call your own.
Purchase a nucleus (nuc)
One of the best ways to source bees is from a reputable bee breeder who will help to provide you with a healthy colony for your new Flow Hive.
A Nuc is a small colony which includes a laying queen, workers, drones and 4 or 5 frames of brood and honey and is an easy way to set up your first hive.
Split a hive / buy package
The wonderful thing about spring and beekeeping is that when a colony expands, it's easy to perform a hive split and make one colony become two.
So it's a great idea to have your hive set up and ready to go, so you can receive from a split from a beekeeping friend, mentor, beekeeping club or bee enthusiast.
Not sure where you can set up a hive?
The good news is, you can keep a beehive almost anywhere! Especially a Flow Hive, as there is no need for additional processing equipment or for lugging heavy frames full of honey for harvesting. From rooftops to balconies to backyards, it's now possible to harvest honey directly from your hive.
Here are some tips to make sure your location choice is both good for you and for your bees.
You should also check if you need to register your hive or as a beekeeper in your local region.
Start your pollinator garden
When selecting your garden blooms, make sure to include some local native plants in a variety of different colours.
Bees, like humans, enjoy diversity. Include flowers of different sizes and shapes and plant in clumps to make foraging a breeze.
Find plants that bloom at different times of the year. Support a range of different pollinators throughout the different seasons. Trees and shrubs produce much higher quantities of pollen and nectar, however, smaller plants produce forage more regularly – it's great to have a selection of both.
Ready to get started this spring?
Our May Starter Bundle has everything you need and an excellent saving.