Welcome to winter
The perfect time to start planning your beekeeping journey in 2022.
Welcome to winter
The perfect time to start planning your beekeeping journey in 2022.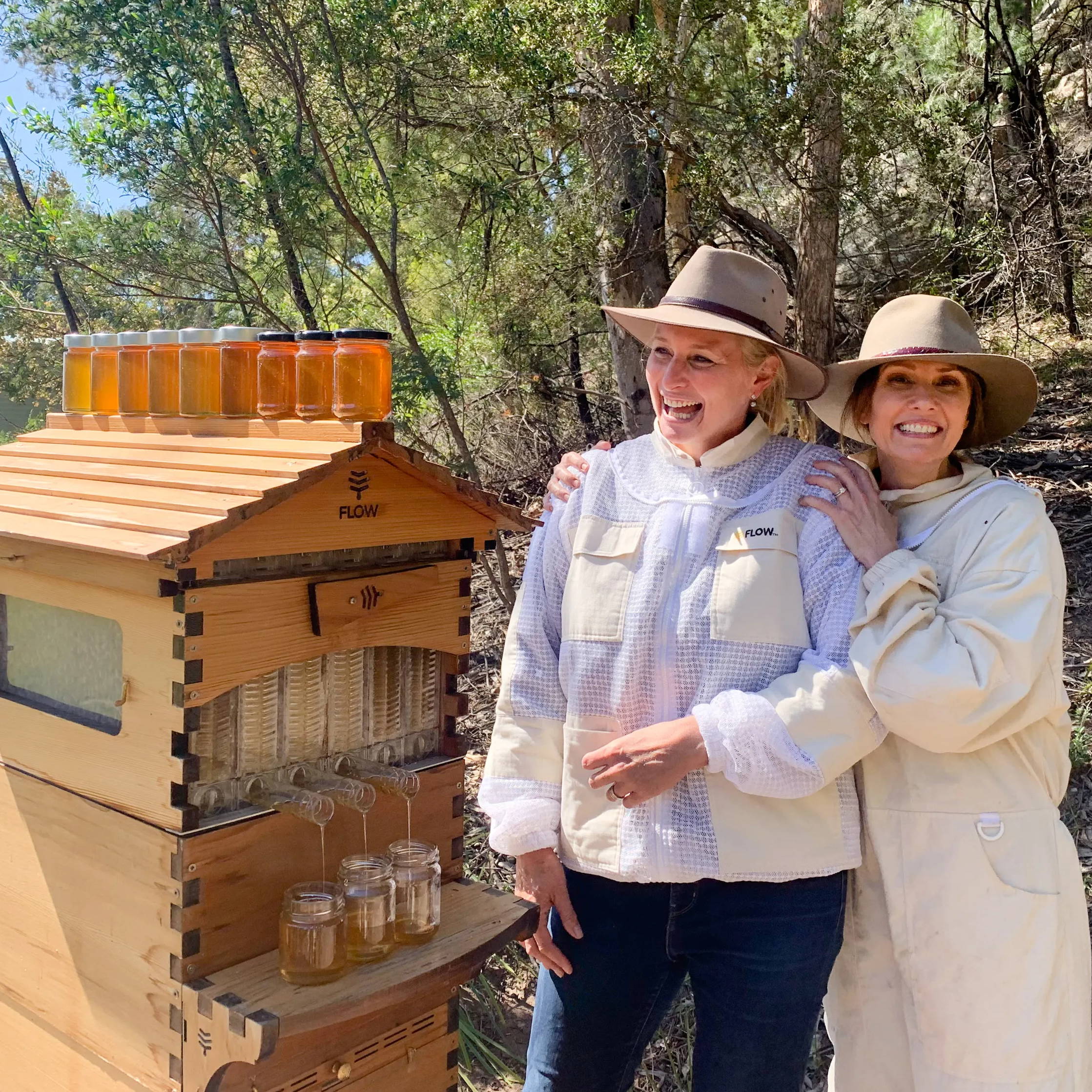 While the bees are tucked up in their hive
Unless you're lucky enough to live in a warm area with year round forage, most beekeepers at this time of year, will have packed down their hives, ensuring their colonies will be kept warm and have enough honey stores to last the winter. It's a great time to look ahead and start planning for the new season.
There are plenty of things to keep an aspiring beekeeper busy during the colder months. These include: choosing the best hive for your needs, joining a bee club, registering as a beekeeper and learning as much as you can about bees before spring!
Looking to start beekeeping in the new year?
Our special limited edition Flow Hive Starter Bundle is perfect for setting-up your first hive next season.

Features our best-selling Flow Hive, an organic beekeeper's suit, stainless steel smoker, goatskin gloves, a J-Hive tool and Flow Veil.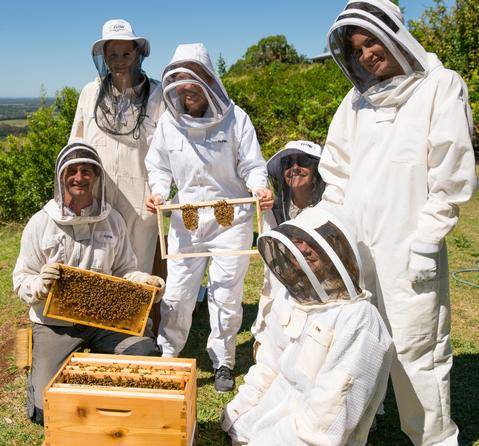 Contact your local club
There can be a high demand for nucs and bee packages (starter colonies) in spring – so now is a great time to reserve yours. Contact your local bee supplier or beekeeping club to get on the list.
Local beekeepers are also a great source of knowledge and support, so we always recommend joining a club and making contacts. If your local beekeeping club is in lockdown, they might have a Facebook page or other online resources.
Why people love their Flow Hive
Adrian's love of beekeeping is driving him to research and learn about bees, beekeeping and the environment. And his mum's also a big fan of the bees!
"I'm only just starting to learn what I don't know about bees. So I've got many decades to come of learning more about beekeeping." Adrian


Winter is the perfect time to discover our online beginner beekeeping course
Fast-track your learning easily and enjoyably at TheBeekeeper.org. Learn in your own time with high-quality, expert-lead video lessons explaining what you need to know in order to feel confident looking after your bees.
Which hive should I get?
Want to get started, but not sure which Flow Hive is right for you? Our hives come in a variety of sizes and timber types, and all of our models are perfect for beginner beekeepers. Check out this video to see the different options available.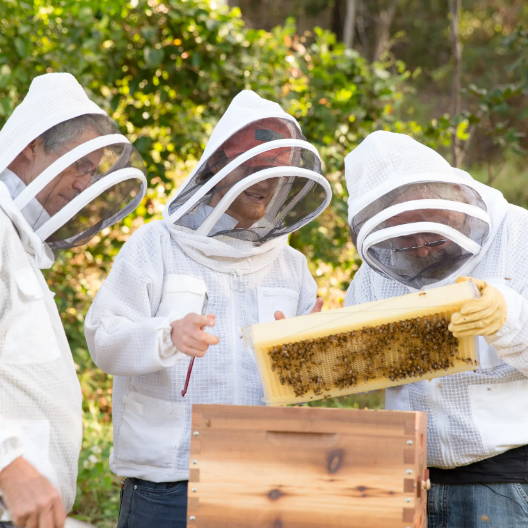 Research and connect
There's a lot to learn when starting beekeeping, and it may feel a little daunting. We've got a number of resources available to answer your beekeeping questions.
Our FAQs are a great source of information.
The Flow Forum is also a fabulous place to connect with beekeepers around the world. Read through threads dedicated to beekeeping topics, and have your questions answered by experienced beekeepers!
Make sure to also check out our official, exclusive Flow Facebook Community Group.
Looking for a special gift?
A Flow Hive may be the perfect present for the aspiring beekeeper in your life.
We also sell gift cards, and yearly membership subscriptions to TheBeekeeper.org our educational online beekeeping course.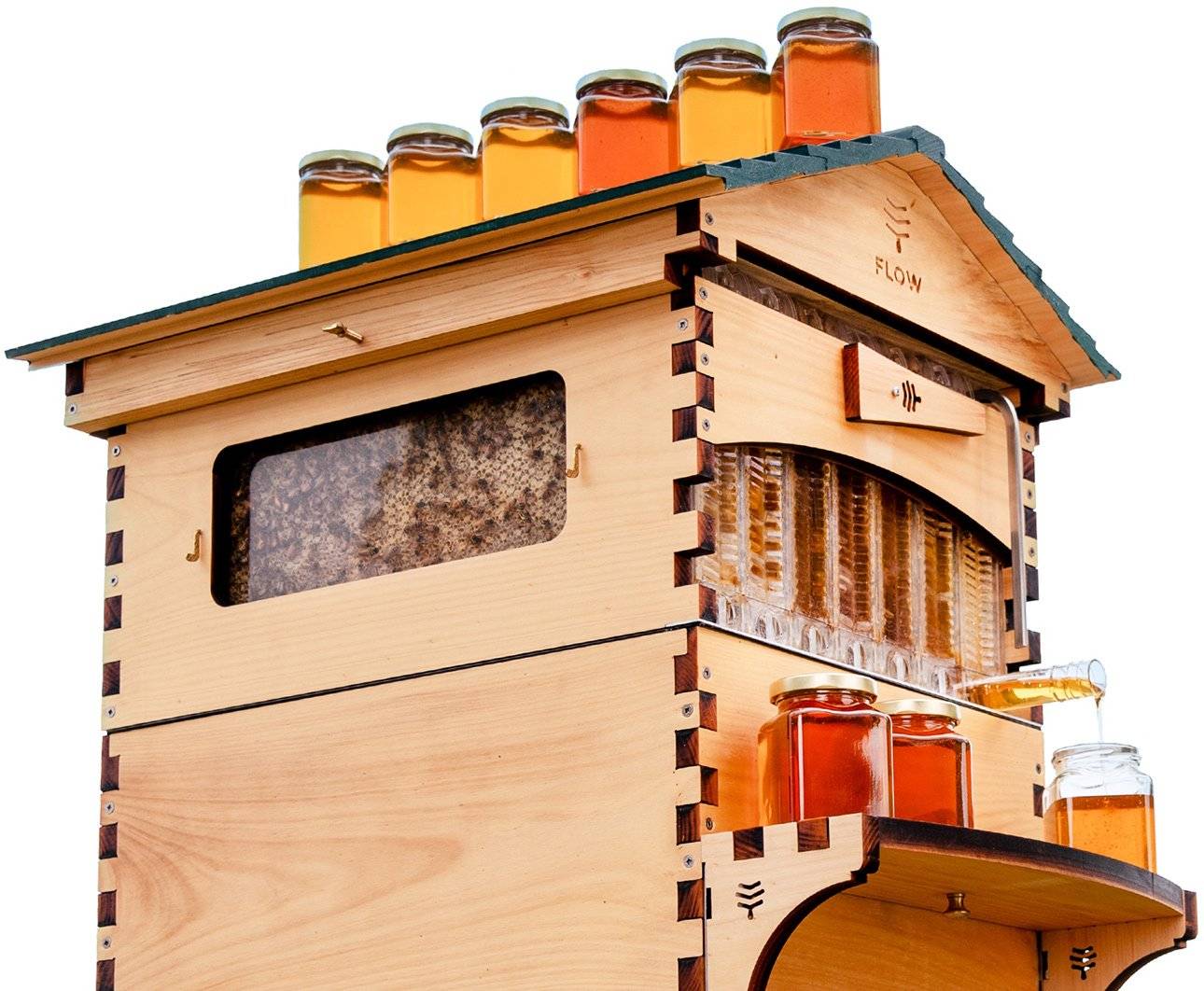 Getting closer to nature through beekeeping
One of the advantages of beekeeping is that it requires you to get in tune with the natural world. Christie is among the many new beekeepers that find beekeeping a meditative practice – it takes her out of her busy schedule and focuses the mind on the beauty of bees!
"It opens up, not just this world of bees, but it's sort of a window in to being more connected to nature in a much larger way"
Winter beekeeping tasklist
How do I protect my hive?
Preparing a home for your bees is an exciting and fun part of getting started. In winter, you'll have plenty of time to get creative when assembling and painting your hive.
It will need protection from the elements to ensure longevity. We like to leave the inside fresh and natural for the bees.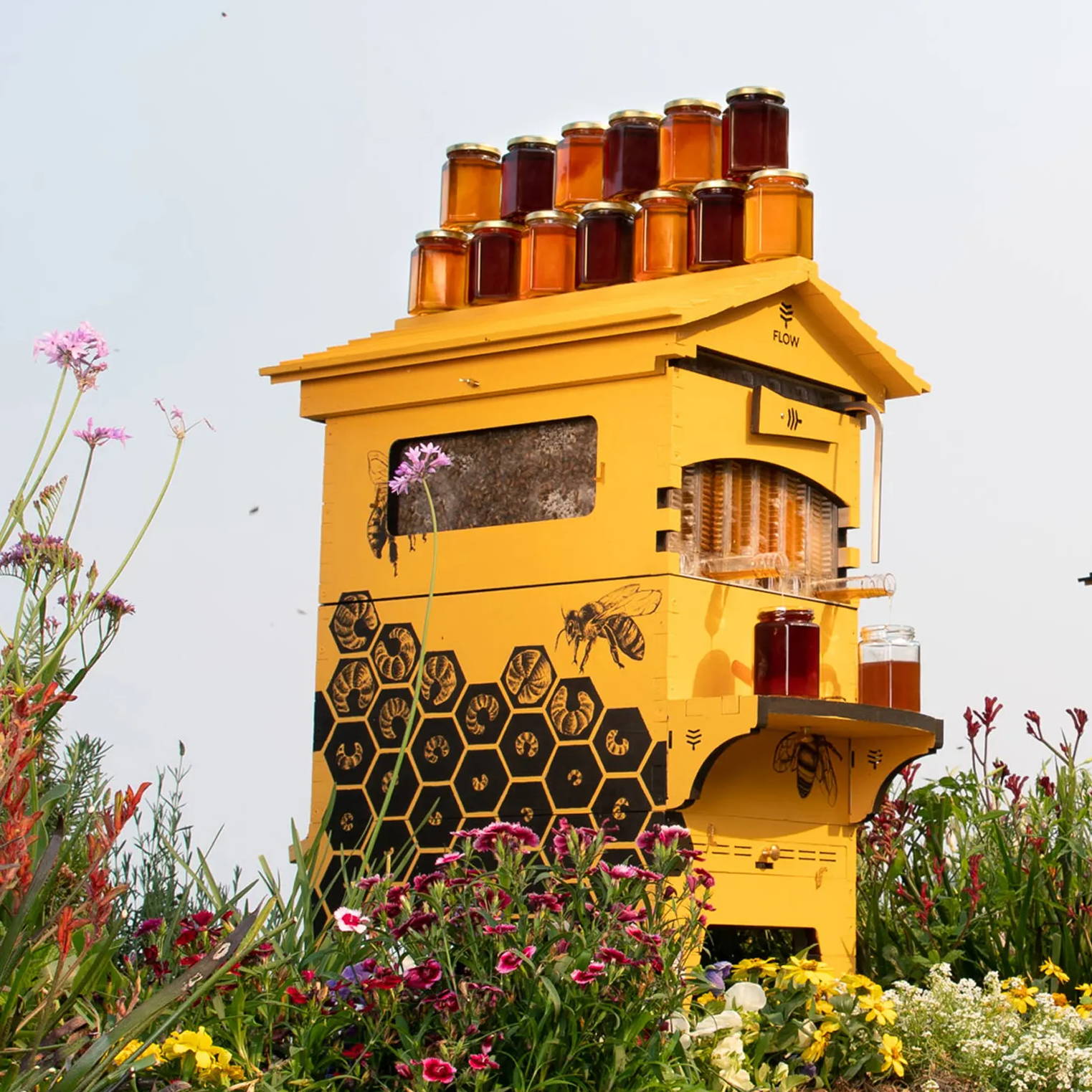 Where do I put my hive?
An important decision is where you are going to set up your new hive in anticipation of spring. Flow Hives are kept in a variety of locations – from small urban areas such as balconies, rooftops and suburban backyards, to large rural properties.
There are a few things you will need to take into account, including local regulations and proximity to neighbors.
Read more here about where to locate your Flow Hive.
Register as a beekeeper
Depending on your location, there will be different regulations on beekeeping in your area, and you will probably have to register with a local authority.
It's a perfect time to find out what you need to do. Our Community Forum is a great place to connect with other beekeepers and get pointed in the right direction.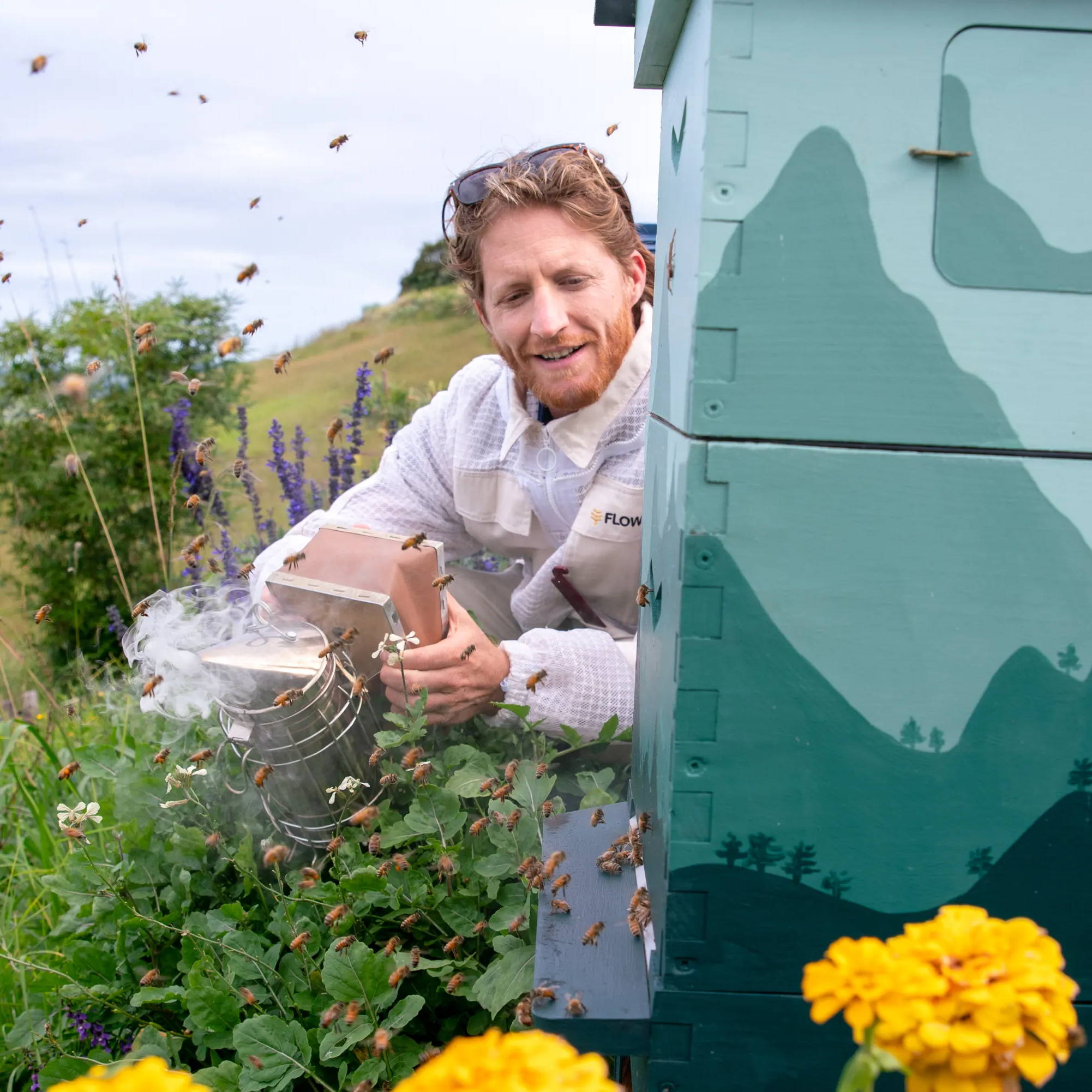 Get ready for beekeeping season with a Starter Bundle!
Everything you need to get started with bees – complete with an organic beekeeper's suit, gloves, J-hive tool, smoker and Flow Hive!